Healthcare organizations have experienced almost a year of hyper Covid-19 supply expenses that have bloated their budgets. We are talking about billions of dollars of unplanned supply expenses. The only question is, how do you reel in your Covid-19 supply expenses now that the pandemic is slowing in most cities, counties, and states? The answer is to look back on your "baseline data" (figure 1) to reel in your Covid-19 supply increases that occurred over the last 11 to 12 months.
Figure 1: Three Year Supply Cost Per Operating Metric
Surgical Gowns Cases – CMI Adjusted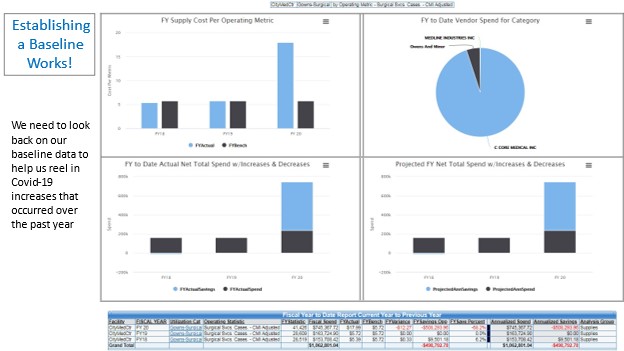 Accountability, Awareness, and Appropriateness
In our case study example above, this hospital's surgical gown expense jumped 68.2% or $17.99 per case/CMI adjusted in 2020 due to the pandemic. But now their surgical gown expenses should be coming down to their three-year average cost per operating case of $5.72 per case in 2021. This "baseline data" needs to be shared with your budget owners so they can be held accountable, aware, and deem appropriate these supply expenses based on their covid-19 case workload. Otherwise, your 2021 supply expenses won't look any better than your 2020, which is unsustainable!
Undisputable Evidence Makes the Difference
Looking back at our experience with the SARS virus in 2002-2004, we may have, in our opinion, been forced to overreact to this pandemic by exceeding CDC recommendations on our PPE requirements. Our internal customers demanded this overreaction with the uncertainty of Covid-19 as well as the high patient volumes they were interacting with. My guess is that some of that is going on today. That's why we must challenge our department heads and managers with "undisputable evidence" like our Figure 1 case study to help them get back to the "new normal" as soon as possible. To do so, some of our clients are meeting with their department heads and managers monthly to share their "undisputable evidence" to raise their awareness and then asking them for a plan to normalize their supply usage over the next 12-months.
We know that the pandemic can be problematic and reappear when we think we have beaten it back. To quote President Dwight D. Eisenhower, "In preparing for a battle, I always found that plans are useless but planning is indispensable." That is why you need to anticipate the unexpected with your supply expense planning and be nimble enough to adjust when changes in circumstances come about.
---
Below are some similar articles that you may find interesting.
4 Ways Supply Chain Professionals Can Benefit From Supply Utilization Management Strategies
4 Predictions That Will Directly Affect Your Supply Chain In 2021
---
Request Demo of SVAH's VA and Utilization Tools